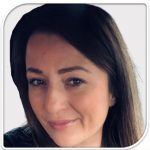 Dr. Noemi Poerio, University of Rome "Tor Vergata", Italy, will join the Phage Therapy Congress to present her latest research on "A Novel Combined Host- and Pathogen-Directed Therapeutic Approach to Fight Infections by MDR- Klebsiella pneumoniae".
Dr. Poerio has evaluated, in an in vitro model of human macrophages, the efficacy of a novel combined strategy consisting in a bioactive liposome and a lytic phage specific for one of the major high-risk clone of MDR-Klebsiella pneumoniae (KP). The obtained data support the therapeutic value of the combined therapy as a promising approach, alternative to single treatments, to simultaneously target intracellular and extracellular pathogens and to improve the clinical management of patients infected with MDR-KP.
Join the congress to benefit from the experience of professionals like Dr. Poerio.
Targeting Phage Therapy 2023
6th World Conference
June 1-2, 2023 – Paris, France