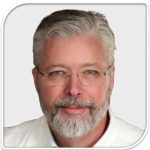 Dr. David Jernigan, PhagenCorp, LLC, USA, will join the Phage Therapy Congress to present his latest research on "Inducing Native Phages From the Human Virome to Address Targeted Infections".
The strategic manipulation of native phages to mitigate or eliminate a targeted infection appears feasible. The human body is a rich source of diverse phage populations. Native phages comprise 97.7% of the human virome with over 30,000 unique phage populations.
This presentation reveals compelling evidence of a novel innovation to induce specific epigenetic changes in key native phages from the human virome, a component of the microbiome, to mitigate or eliminate targeted infections. Further scientific evaluations are needed to better understand these clinical outcomes.
Join the congress to know more about the latest innovations in the phage therapy field. 
Targeting Phage Therapy 2023
6th World Conference
June 1-2, 2023 – Paris, France