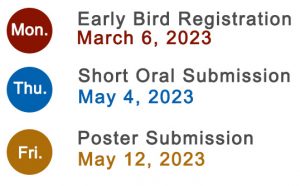 The scientific committee of Targeting Phage Therapy World Congress invites all industrials, academics and researchers to submit an abstract for a presentation during its 6th Annual Meeting next June. 
Deadline for Short Oral Presentation / Innovation Submission: May 4, 2023
Deadline for Poster Presentation Submission: May 12, 2023
Get the chance to share your research with experts from all over the world. Abstracts concerning different topics in Bacteriophages & Phage Therapy are welcome. Check the tracks for abstract submission.
The scientific committee will discern 2 awards at the end of the conference:
The best Scientific Contribution Award
The best Innovation Award
Know more about the Submission Procedure.
---
Targeting Phage Therapy 2023
6th World Conference
June 1-2, 2023 – Paris, France