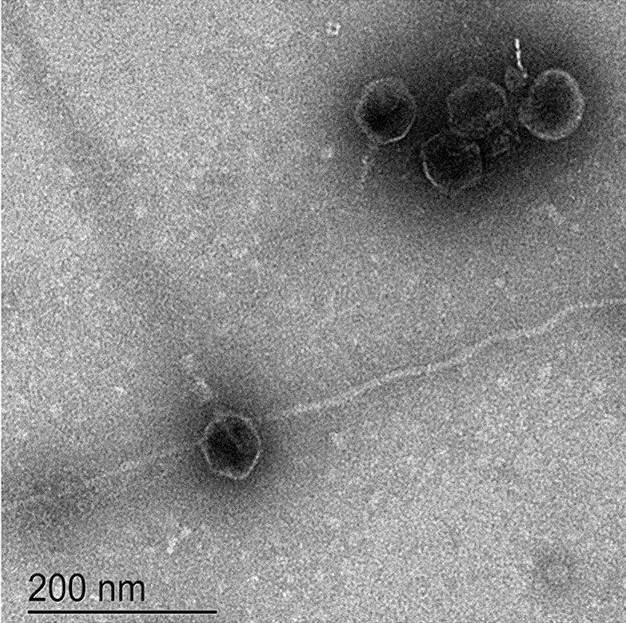 Transmission electron micrographs of phage VL1 negatively stained with 2% (w/v) uranyl acetate. The scale bar represents 200 nm.
Pseudomonas aeruginosa is a notable nosocomial pathogen that can cause severe infections in humans and animals. The emergence of multidrug resistant (MDR) P. aeruginosa has motivated the development of phages to treat the infections.
Lerdsittikul et al. isolated a novel Pseudomonas phage, vB_PaeS_VL1 (VL1) from urban sewage. Phylogenetic analyses revealed that VL1 is a novel species in the genus Litunavirus of subfamily Migulavirinae. The VL1 is a virulent phage as no genes encoding lysogeny, toxins or antibiotic resistance were identified.
The therapeutic potential of phage VL1 was investigated and revealed that approximately 56% (34/60 strains) of MDR P. aeruginosa strains, isolated from companion animal diseases, could be lysed by VL1. In contrast, VL1 did not lyse other Gram-negative and Gram-positive bacteria suggesting its specificity of infection.
Phage VL1 demonstrated high efficiency to reduce bacterial load (~ 6 log cell number reduction) and ~ 75% reduction of biofilm in pre-formed biofilms of MDR P. aeruginosa.
The result of two of the three MDR P. aeruginosa infected Galleria mellonella larvae showed that VL1 could significantly increase the survival rate of infected larvae.
Thus, phage VL1 has genetic and biological properties that make it a potential candidate for phage therapy against P. aeruginosa infections.
© Image – Lerdsittikul et al., Sci Rep 12, 21193 (2022)
---
Targeting Phage Therapy 2023  will highlight the latest phage discoveries. You can share your phage related research during this conference by submitting your abstracts before the beginning of May. Abstract Submission Process.
---
Targeting Phage Therapy 2023 Congress
6th World Conference
June 1-2, 2023 – Paris, France