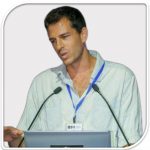 Iddo Nadav Weiner, VP of Research at BiomX, Israel presented a short oral talk entitled "A Phase 1b/2a Randomized, Double-blind, Placebo-controlled Study Evaluating Nebulized Phage Therapy in Cystic Fibrosis Subjects With Chronic Pseudomonas Aeruginosa Pulmonary Infection " during Targeting Phage Therapy 2023 on June 1-2 in Paris.
Dr. Weiner will describe the development of a phage cocktail designed to efficiently target a wide range of P. aeruginosa strains. The phage cocktail when administered to nine cystic fibrosis patients chronically infected with P. aeruginosa in a phase 1b/2a double-blinded placebo-controlled clinical trial, was demonstrated to be safe and well-tolerated.
Furthermore, patients treated with phage showed a dramatic reduction in P. aeruginosa sputum density compared to the placebo group. 
You can learn more about Dr. Weiner's and this BiomX phage cocktail in Targeting Phage Replay and/or Abstracts Book.

---
Targeting Phage Therapy 2023
6th World Conference
June 1-2, 2023 – Paris, France
LinkedIn | Facebook| Website