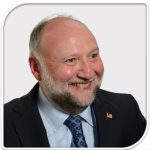 Dr. Alexander Sulakvelidze, President and CEO of Intralytix, Inc, USA, will join the Phage Therapy Congress to present a talk entitled "Modern Approaches for Optimizing Therapeutic Phage Preparations".
The emergence of antibiotic-resistant bacteria and the burgeoning field of microbiome research have rekindled interest in phage therapy and phage biocontrol applications, where lytic bacteriophages are used to specifically target and kill problem-causing bacterial pathogens. The interest in phage applications has been especially robust in the past 5-10 years – and these rapid developments in the field have also created some significant technical and logistical challenges, ranging from optimizing approaches to identify new potent bacteriophages for clinical applications to developing rapid scale up manufacturing methods suitable for various cGMP standards (including 21 CFR 111 and 21 CFR 200).
In this presentation, Dr. Sulakvelidze will discuss two significant advances in that regard:
(1) PhageSelector™ and
(2) PhageEngine™ platforms developed by Intralytix.
PhageSelector™ is a proprietary program that organizes panels of phage efficacy data and generates a rank-ordered list of phages to combine into an optimal phage cocktail for a given target. The program provides a deeper understanding into phage-host pair interactions through a high throughput robotics.
PhageEngine™ is an artificial intelligence (AI)-based platform that provides insights into phage needed to kill a specific bacterial strain as well as a framework for optimal phage-host growth dynamics.
The presentation will showcase some examples of practical applications of these platforms and how their implementation can help advance various phage therapy and phage biocontrol applications.
Join the congress to benefit from Dr. Sulakvelidze's experience in the phage therapy field.
Targeting Phage Therapy 2023
6th World Conference
June 1-2, 2023 – Paris, France