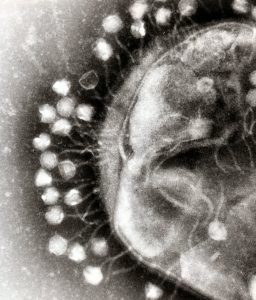 "Phage" by Professor Graham Beards is licensed under CC BY-SA 3.0.
Nontuberculous Mycobacterium infections, particularly Mycobacterium abscessus, are increasingly common among patients with cystic fibrosis and chronic bronchiectatic lung diseases. Treatment is challenging due to intrinsic antibiotic resistance. Bacteriophage therapy represents a potentially novel approach. Relatively few active lytic phages are available and there is great variation in phage susceptibilities among M. abscessus isolates, requiring personalized phage identification.
In this case study by Dedrick et al., Mycobacterium isolates from 200 culture-positive patients with symptomatic disease were screened for phage susceptibilities. One or more lytic phages were identified for 55 isolates. Phages were administered intravenously, by aerosolization, or both to 20 patients on a compassionate use basis and patients were monitored for adverse reactions, clinical and microbiologic responses, the emergence of phage resistance, and phage neutralization in serum, sputum, or bronchoalveolar lavage fluid.
No adverse reactions attributed to therapy were seen in any patient regardless of the pathogen, phages administered, or the route of delivery.
Favorable clinical or microbiological responses were observed in 11 patients.
Neutralizing antibodies were identified in serum after initiation of phage delivery intravenously in 8 patients, potentially contributing to lack of treatment response in 4 cases, but were not consistently associated with unfavorable responses in others.
Eleven patients were treated with only a single phage, and no phage resistance was observed in any of these.
In conclusion, phage treatment of Mycobacterium infections is challenging due to the limited repertoire of therapeutically useful phages, but favorable clinical outcomes in patients lacking any other treatment options support continued development of adjunctive phage therapy for some mycobacterial infections.
---
Targeting Phage Therapy 2023 this June will provide an overview of the latest phage therapy trials. You can access the full program.
---
Targeting Phage Therapy 2023 Congress
6th World Conference
June 1-2, 2023 – Paris, France